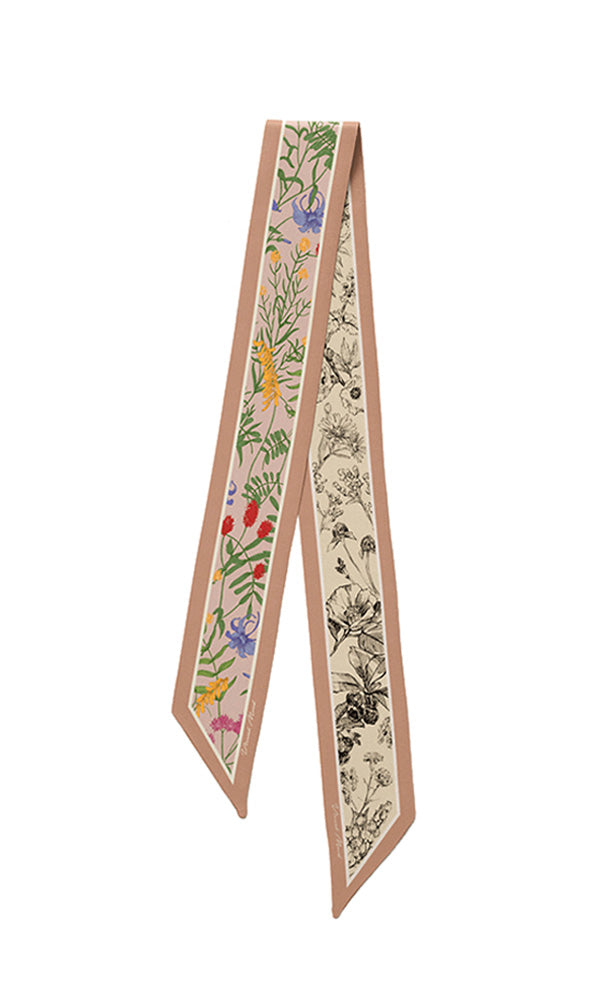 JOANNA Double-sided Neckerchief & Headband
Product Features
Multi-use: Wear it as a neckerchief, wrap it like a headband or a hair ribbon.


Perfect statement piece for summer

120cm length; 6.5cm width

100% Polyester

Hand wash cold is recommended
Please do not iron.
Please avoid rough surfaces when wearing. The products are comprised of microfiber fabric. Rough surfaces may scratch the fabric and cause snagging and pilling.

Please wash the products immediately after wearing. Do not put moist garments into a plastic bag for a long period of time. In favor of laundry, hand washes with warm water below 30 degrees Celsius are advisable.

Please do not use alkaline laundry detergent or bleach. Wash your light & dark colored products separately.

Please do not use the dryer to dry these products.
Please use lotions, sunscreen, or other skin care products with care. These may cause discoloration because of the ingredients and chemicals contained within.
If you have any questions, please contact us at customerservice@visualmood.com for more information. 
Shipping
Processing time:
1-3 business days.
Estimated shipping time: 
Canada:  1-15 business days

United States:  1-15 business days

Other Countries:  10-30 business days
Pre order items will be shipped on indicated dates.
Return and Exchange
Canada & US:
We take returns for refunds/exchanges within 15 days of delivery date.
Outside Canada & US: We only accept store credits on international orders (outside Canada & US). We do not currently offer returns for refunds on any international orders.